Transparent and honest quotes - NO credit card processing or hidden fees
NEW! We now offer financing.
Click HERE to prequalify today and contact us to learn more about financing your next project!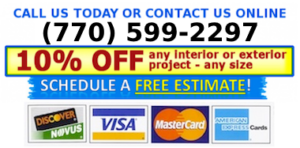 HAVE PROUDLY SERVED
CUSTOMERS SINCE 1992!
Locally Owned and Operated since 1992
The Painting Group & Renovation is a family-owned and locally operated painting contractor which is not nationally franchised. One of our family members will personally give the estimate, supervise the project, and handle all details of the project to ensure the complete customer satisfaction.  → read more about the Hamadeh family
FREE Detailed and Professional Estimates
One of our family members will provide every estimate at our customers' convenience. There are no "middle men", estimators, or salespeople. Each contract will detail the scope of work and will specify the exact products/materials that will be used. NO down payment is ever required.
Quality Work
Most of our crews have been working with the company for over ten years. Each crew has a foreman who was personally trained by Sam and is always present at the job site. Each project will be completed in the contracted time frame and will be monitored by one of our family members. There will also be a final walk-through with the customer to ensure complete satisfaction.
Numerous Satisfied Customers
Don't just take our word for it - see what our satisfied customers have been saying on Facebook, Google, Yelp, and our Blog.
Licensed, Fully Insured, and Workers Compensation Certified
Many Atlanta-based painting companies do not carry insurance to protect customers against damage done to their home. We also respect our employees and ensure they are protected. Other companies see this as a way to cut overhead and minimize operational costs. We do not believe in cutting corners whatsoever.
Reliability, Dependability, and Our Commitment to Excellence
Being a local family-owned business, the ability to communicate with our customers is key. We are available to answer any questions after hours and on weekends. The bottom line? Our customers come first.